Come diventare grandi nonostante i genitori (How to Grow Up Despite Your Parents) is a Disney movie related to Alex & Co.
It premiered on November 24, 2016 in Italian cinemas. It premiered in the United States at the Los Angeles Italia Film Festival on February 21, 2017.[1] The movie was released on DVD and digital platforms (such as iTunes) on March 15, 2017 in Italy.[2] The DVD has Italian audio and English subtitles.
In the United Kingdom, the film was shown on March 5, 2018 on Disney Channel.
Plot
More often than not, parents are in open contrast with their children's teachers: They always question their judgment and see conspiracies everywhere, failing to realize that by doing so they severely impair the growth of their kids. The parents always say "We know our child better than everyone, and we know exactly what he has to learn". That's exactly what happens to the young cast of "How to Grow Up Despite Your Parents". When the new high school principal, who doesn't approve recreational activities, decides not to allow the participation of her students to the national battle of the bands, boys and girls suffer a mortal blow: They live to make music. But when the parents start to protest the decision, the principal decides to double the daily homework. After the first bad grades, the parents decide to stop the protest and submit to the principal's decision. However, fueled by their pride, the kids sign up for the battle of the bands despite their parents' decision. Facing impossible odds, boys and girls will learn to grow up in surprising ways.
Summary
The decision of the principal not to join the national school competition for music groups will be a fatal blow for the boys because of their unbridled passion for music. Initially the parents take up the defense of their children, but then the principal will decide to double their homework. Against parents and the principal, the boys decide to enroll in the music competition. The challenge seems impossible but instead it will take the kids to grow up in a surprising way between all kinds of obstacles to overcome.
Cast and Characters
Main characters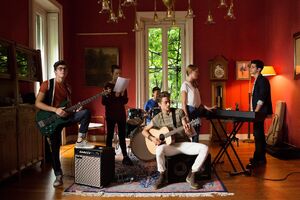 Other characters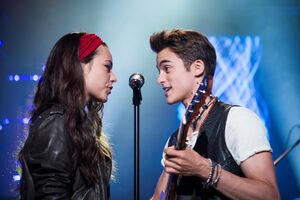 Supporting characters
Songs
Series songs:
Production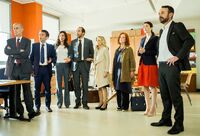 On December 2, 2015, Disney Channel Italy announced they were preparing a movie based on the series, planned for September 2016. On March 31, 2016 it was announced the release date of the movie, November 24, 2016. On October 21, 2016 title and cast were revealed.
The movie includes the main cast of Alex & Co. but it also features famous actors such as Matthew Modine, Margherita Buy and Giovanna Mezzogiorno.
Four days before the movie release, a 22-minute promotional "behind the scenes" was broadcast on Disney Channel Italy. It is included in the DVD extras and available on YouTube (in Italian).
International releases
Country
Platform
Premiere date
Title
Italy
Cinema
November 24, 2016
Come diventare grandi nonostante i genitori
DVD and digital platforms
March 15, 2017[2]
Sky Cinema Uno (TV)
September 15, 2017[3]
Netflix Italy
September 15, 2018[4]
United States
Los Angeles Italia Film Festival
February 21, 2017
How to Grow Up Despite Your Parents [1]
Spain
Disney Channel Spain
April 16, 2017
Alex & Friends. Sobreviviendo a los padres [5][6]
Canada
Italian Contemporary Film Festival Junior 2017
May 8, 2017
How to Grow Up Despite Your Parents [7][8]
Romania
Disney Channel Romania
July 15,2017
Alex și trupa: cum să devii mare chiar dacă părinții îți pun bețe-n roate [9]
Bulgaria
Disney Channel Bulgaria
Групата на Алекс: Как да следваш мечтите си, въпреки възрастните [10]
Poland
Disney Channel Poland
July 22, 2017
Hungary
Disney Channel Hungary and Czech Republic
July 28, 2017
Alex és bandája: Hogyan nőjünk fel a szüleink akarata ellenére [13][14]
Czech Republic
Alex a spol: Jak dospět navzdory rodičům [15][16]
Germany
Disney Channel Germany
August 27, 2017
Alex & Co. – Der Film (Official title) [17]
Wie man trotz Eltern erwachsen wird (Title on screen) [18]
France
Disney Channel France
September 27, 2017
Alex & Co. le film [19][20]
Greece
Disney Channel Greece
January 26, 2018
Πώς να μεγαλώσεις χωρίς τη βοήθεια των γονιών σου [21]
Middle East
Disney Channel Middle East
Alex & Co: How To Grow Up Despite Your Parents [22]
South Africa
Disney Channel South Africa
Latin America
Disney Channel Latin America and Brazil
February 10, 2018
Alex & Co.: Cómo crecer a pesar de tus padres [23]
Brazil
Alex & Co. – Como crescer, apesar dos pais [24]
United Kingdom
Disney Channel UK and Ireland
March 5, 2018
Alex & Co: How to Grow up Despite Your Parents
Ireland
Netherlands and Belgium
Disney Channel Netherlands and Belgium
March 24, 2018
Alex & Co: Volwassen worden ondanks je ouders (NL)
Alex & Co. De film (NL-BE) [25]
Alex & Co. le film (FR-BE) [26]
Trivia
This movie continues the events of Alex & Co since the end of season 2, when Nicole left Alex. However, Sam's girlfriend is not Rebecca, who does not exist in this universe.
This movie can be placed in a parallel universe compared to the Alex & Co. one, because the characters have common points, but they have different love stories and some of the parents who appeared in seasons 1 and 2 are portrayed by different actors.
Filming for the movie began on July 8, 2016 and finished in late September 2016.
The movie was shot after Season 3 Part 1 and premiered in that same order in most countries. The only exceptions are France, Greece, Middle East, South Africa and Benelux, where it was shown after ending the whole Season 3, and Germany, Latin America, Brazil and the UK, where it aired just after Season 2.
The original italian title Come diventare grandi nonostante i genitori has a double meaning. "Diventare Grandi" means in fact, both "To Grow Up" and "To Become Great".
For timing reasons, all songs have been really shortened in comparison with full versions.
Unlike the series, songs didn't have subtitles originally. Despite that, in Germany, France and French Belgium, Latin America and Brazil subtitles were added.
The Mad&Bros band exists in real life.

Inside the movie they are named Mad&Bross.
Their songs contain explicit lyrics that were changed for the movie to be suitable for all audiences.
Their songs are the only ones fully sung in Italian in all the Alex & Co. world.

Gennaro Nunziante, the screenwriter of the movie, made a brief appearance as the priest of the church where Davide plays the piano.
The movie premiered in the United States at the Los Angeles Italia Film Festival 2017, presented by Eleonora Gaggero and her sister.[27] It was also shown the next year, introduced by Leonardo Cecchi.[28] On both occasions, it was shown in Italian with English subtitles.
Goofs
Quotes
Alex:
The music room is our right!
Silvia Rufini:
Only the great people understand the importance of certain words.
Bob Riley:
It's so for the songs, just get in a listening position with the world and hear that the wind carries the notes and the words you need to live.
Davide Aiello:
A girl takes away so much time. How can I study piano then?
Christian:
I want to play music because that's what makes me happy.
Gallery
Links
References
↑ The Italian actress Eleonora Gaggero presented "How to Grow up Despite Your Parents" at Los Angeles